PRINCIPLE OF RECIPROCITY
Our philosophy is based on the simple and universal principle of reciprocity. This is how we view our successes. What we get, we share with others.
We help individuals, schools and orphanages, and we get involved in charity initiatives.
As a socially responsible business we also support local initiatives related to culture, society, ecology and sports. We drive the development of our region in these aspects. We have always supported and will continue to support the place where we live and work.
Monika Lemieszek - Marketing Manager
Bartosz Zmarzlik
An extremely talented speedway rider and a man of incredible personality. His passion and drive for further success in conjunction with unrivalled dedication and hard work constitute a set of particularly impressive qualities. That is why we are extremely happy and proud to support the Master in his sports career.
Bartosz Zmarzlik's sports achievements include, among others:
A gold medal in the Individual World Speedway Championship 2019
A silver medal in the Individual World Speedway Championship 2018
A bronze medal in the Individual World Speedway Championship 2016
A gold medal in the team World Championship 2016 and 2017
A bronze medal in the team World Championship 2015
The title of the best Polish Competitor of the Season awarded on four separate occasions
Stal Gorzów Wlkp. Sports Club
tradition and unique atmosphere of sporting events
Stal Gorzów Wielkopolski Sports Club is mainly associated with speedway traditions. The history of speedway in Gorzów dates back to late 1945, when first motorcycle and then street rallies took place, later followed by oval track racing. Maszoński Logistic supports the club financially and is involved in many initiatives carried out by the local community (marathon races, trips).
STS Olimpia Sulęcin
1st volleyball league
For a number of years, we have been supporting Olimpia Sulęcin - the first league volleyball club which has been participating in main tournaments since 2004. Without a doubt, the club remains one of the most popular sports clubs in the region. Apart from achieving success in sports competitions, they also provide entertainment and serve as a unifying factor for the local community.
"Hands for Mirek"
"Hands for Mirek" was the title of a charity concert organised to raise funds for buying prosthetic hands for Mirek Nadobnik, who was born limbless. We were happy to take part in that initiative and fund one prosthetic limb. We also acquired a race suit from Bartosz Zmarzlik, Individual Speedway Junior Champion, and donated it for a charity auction.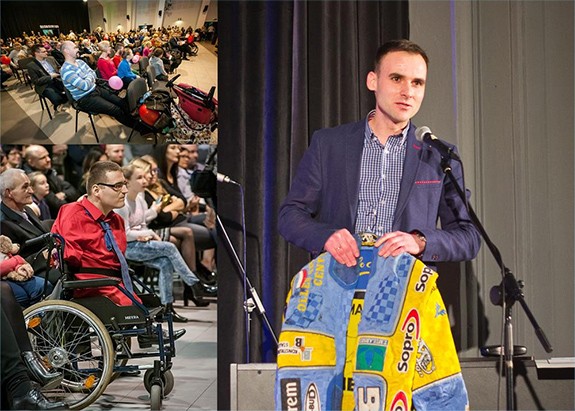 Road safety education is our priority, which is why we aim to improve safety by raising the awareness
of people taking part in our event about road traffic risks.
As part of our CSR efforts, we organised the event "Road safety: pedestrian and driver awareness". Our partners included the General Police Headquarters, Fire Service and ITD (counterpart of the German BAG), and the event had the patronage of national television and the Swiss Fund. We tried to draw the attention of drivers, their families and the local community to the road hazards they should be aware of. In controlled conditions, we staged road events such as emergency braking on a wet surface, sudden driving around an obstacle ending in a skid, and a collision of a truck with a passenger car. Visitors were quite interested in checking out a reaction time trainer and a simulator that demonstrated roll overs, collisions and eco-driving.
To ensure the safety of drivers and cargo, our company focuses on education.
However, education is not just about cyclical training for our drivers: it also involves any events that can improve the awareness of other road users. We are glad that as part of our local community efforts we could set up the Road Safety Town, which was quite popular with visitors. Thanks to the attractions we arranged and professional hosts, the audience had the opportunity to expand their road safety knowledge while having fun. By visiting dedicated zones, they could learn more about eco-driving, using children's car seats, transporting bicycles, the benefits of wearing reflectors, and what an accident feels like. They also had the opportunity to train in first aid and check out an automated defibrillator.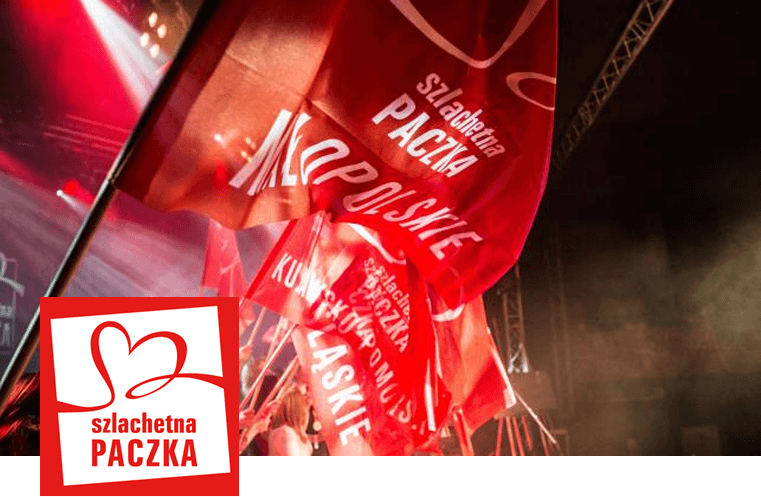 We pursue our ideals and want the world to become a better place. This is why we have become a Social Investor of the NOBLE BOX project.
The NOBLE BOX project is close to people in need of support. It uncovers their stories of hardship and struggle, and aims to share their happy moments. It lets us know about people who live on the margins of society and have a sense of inferiority. Since we believe in smart aid, we have become a partner of the NOBLE BOX project.
As an Investor in one of Poland's regions, our company is now a local NOBLE BOX partner. Investing funds in a specific region of the project improves the effectiveness of the whole network, supports volunteer work and helps to reach families in need of support.
The investor keeps in touch with the Box leader and can review the region's performance. This is what allows the project to grow and bring real change to local communities.
We have also offered logistics support for the Noble Box Finale for several years by providing a vehicle with a driver for project volunteers so they can distribute donations to families.