Optimal vehicle fleet management is the most essential factor in effective company operation. The right IT tools to support transport processes and a competent team give us a competitive edge on the market.
Grzegorz Gasperowicz – Planning Director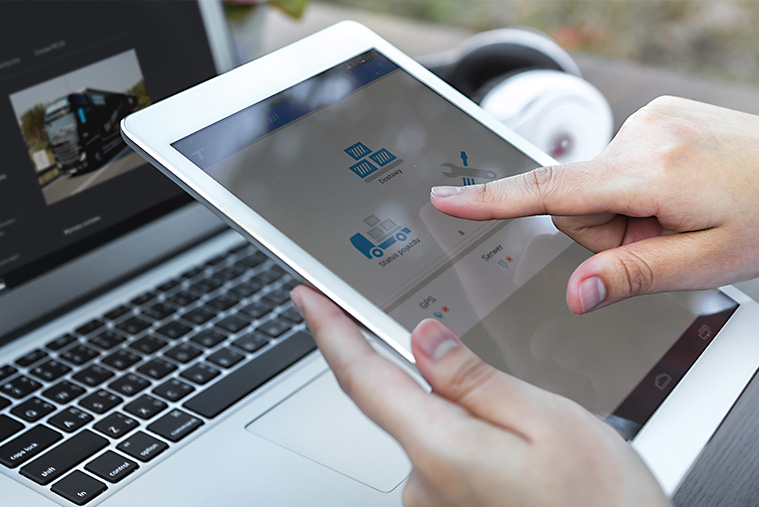 Modern IT systems are an integral component of the decision processes at our company.
They streamline the information flow and, above all, affect the quality and performance of logistics projects.
Each of our truck sets features GPS to monitor the vehicle and shipment location (trailer/semitrailer) and the technical processes related to the technical condition of the vehicle. Integrating this information with the ecosystem of our organisation makes it possible to use it in a variety of contexts.
All of our vehicles feature a CarCube on-board computer, which includes a central vehicle unit and a touchscreen installed in the driver's compartment that serves as an interface. Ensuring quick and appropriate reaction requires modern tools and real-time access to information; CarCube meets both of these requirements.
Mobile Order Management. MOM is an innovative solution in transport logistics. The app facilitates direct connection between the tablet in the driver's compartment and the consignor.
With the photo taking feature, it provides full documentation on cargo securing. The app also facilitates continuous process tracking in real time, delivery without paperwork and shipping transparency until receipt of the goods.
Thanks to the IT solutions we have deployed:
We improve the safety of drivers and cargo.
We provide our clients with all necessary information and procedures.
We react to any unexpected events more rapidly.
We scale the financial effectiveness of specific projects.
We make the right decisions that have a real impact on service quality.